"The View" Food Fight: Raven-Symone and Mario Cantone Compete for Best Mac and Cheese
By Marisa Dabney | Oct 9th, 2015
On the Friday October 9th, 2015 episode of "The View'" Raven-Symoné and Mario Cantone have a food fight to see who makes the best mac and cheese. Mario's Harlem Mac and Cheese goes up against Raven-Symoné's Cheesy Sea Mac and Cheese. Watch them compete below:
Want to taste for yourself whose Mac and Cheese was the best? Try Raven-Symoné and Mario's recipes below at home.
Mario's Harlem Mac & Cheese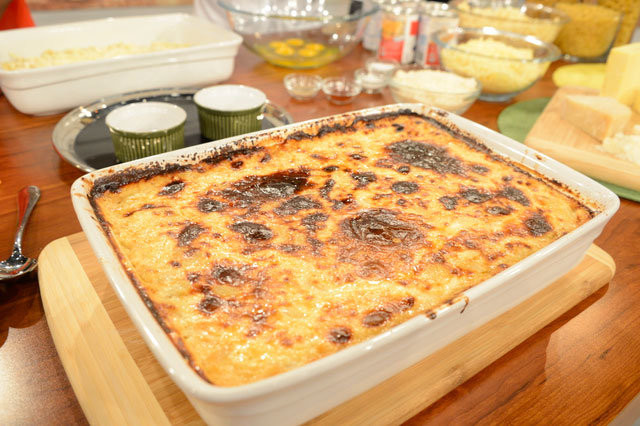 Prep time: 30 mins
Total time: 2 hrs
Serves: 4
Ingredients:

1 lb elbow pasta
4 tbsp unsalted butter
5 eggs
5 cans evaporated milk
1 tbsp salt
1 tbsp sugar
1 tsp white pepper
1/4 tsp paprika
3 cups extra sharp cheddar, shredded
1 cup parmesan, grated
Directions:
Boil pasta in salted water for 4-5 mins, or until al dente. Strain and return to pot. Add butter. Set aside. In bowl whisk together eggs and evaporated milk. Add salt, white pepper, sugar and paprika. Grease a 13x9 baking dish. Layer 1/3 noodles, 1/3 cheddar, and 1/4 parmesan. Repeat three times. Cover with egg mixture and remaining parmesan. Bake covered for 1 hr at 350 degrees. Remove foil and cook for additional 30 mins. Serve hot.

Raven's Cheesy Sea Mac & Cheese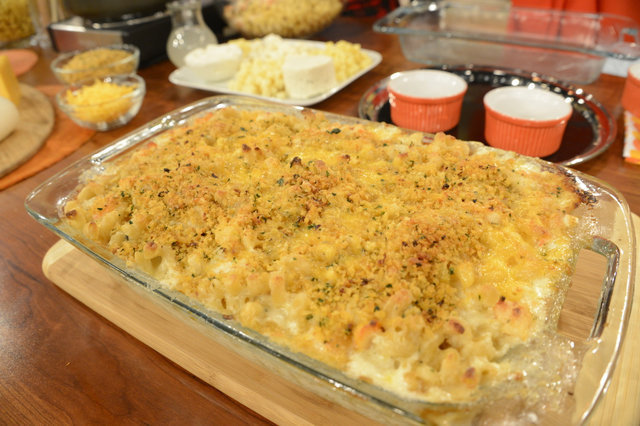 Prep time: 1 hour
Total time: 2 hours
Serve: 4

Ingredients:
1 lb elbow pasta
12 tbsp unsalted butter
3 garlic cloves, minced
2 medium onions, diced
1 1/2 lb medium shrimp, peeled and deveined, cut into small pieces
4 oz Panko bread crumbs
2 tsp paprika
1 tbsp dried oregano
3 tbsp parsley, chopped
1 tbsp truffle oil
1/2 c all-purpose flour
2 c half-and-half
2 c whole milk
1 c each of the following, cubed: Havarti, aged white cheddar, gruyere, mozzarella
1 c whole milk ricotta
5 oz Herb and Garlic Boursin
1/2 c sharp yellow cheddar cheese, shredded
Directions:

Pre-heat oven to 350 degrees. Butter a 9x13 Pyrex pan. Cook pasta 4-5 mins, or until al dente. Reserve 1 - 2 c pasta water, then drain well and put in a large mixing bowl. Melt 2 tbsp butter in medium sauté pan. Add 2 tsp garlic and 1 c onion, sauté. Add shrimp. Cook for 2-3 mins until just cooked through. Take off heat and set aside. In a separate sauce pan, melt 4 tbsp butter. Sauté 1/2 tsp garlic and 1/4 c onion. Add 4 oz Panko breadcrumbs, tossing well with sauté mixture. Add a generous sprinkle of paprika, 1 tbsp oregano and 2-3 tbsp parsley. Cook until breadcrumbs are "toasted" and ingredients well combined. Drizzle with truffle oil. Set aside.

To make béchamel sauce: melt 6 tbsp butter in large sauce pan. Add 1 c onion and 1 tsp garlic. Sauté until softened. Stir in scant 1/2 c flour, stirring well with a wooden spoon. The mixture will look pasty. Switch to a whisk. Slowly whisk in 2 c half-and-half and 2 c milk. When mixture is well combined and liquids heated through, start slowly adding cheeses - 1 c each Havarti, aged white cheddar, gruyere, mozzarella, ricotta, and 5 oz Boursin.
To assemble mac & cheese combine cheese sauce, sautéed shrimp mixture and cooked pasta in a large bowl and toss well. Pour into buttered baking pan. Put in oven uncovered for 45 mins. Remove from oven, top with breadcrumbs and yellow cheddar cheese. Put back in oven for additional 15 mins until toasted and bubbly.
WATCH THE FULL EPISODE: Friday October 9th, 2015>>